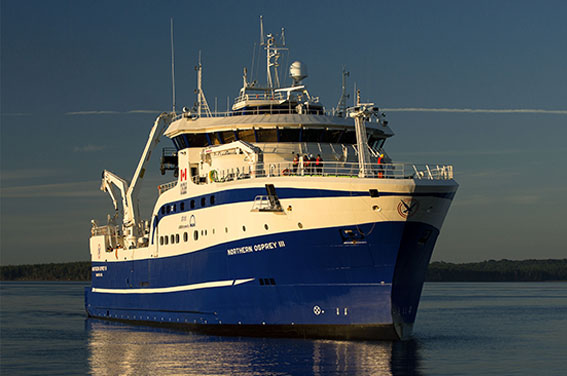 M.V. Osprey Ltd.
Company History
Here are some highlights of M.V. Osprey's history:
Founded in 1986 – we began fishing shrimp and groundfish with the M/V Northern Osprey. Landings took place in both Nova Scotia and Newfoundland, Canada.
In 1992, we built a new groundfish/shrimp trawler – the new M/V Northern Osprey replaced our original vessel.
In 1996, the M/V Northern Eagle was put into service, solely a shrimp trawler; a full factory freezer trawler, that had the capacity of catching, processing, packaging and freezing shrimp onboard the vessel, ready for market.
In 2017, the M/V Northern Eagle was replaced by the M/V Northern Osprey III, which was built at the Tersan Shipyard in Turkey.
All landings take place at our home port of North Sydney, Nova Scotia, Canada.
The majority of shrimp product is sold internationally through our marketing company, Sirena A/S, to China, Japan and European markets.